Snack Connection in Top 250 Scale-ups 2018
Wednesday 18 April 2018
For the second consecutive year Snack Connection is part of the Top 250 Scale-ups in the Netherlands. The Top 250 Scale-ups is based on the ScaleUp Dashboard, which is an annual research into Dutch scale-ups conducted by the Rotterdam School of Management (RSM).
Definition Scale-ups 2018
A company is a scale-up if the company realized a minimum annual growth of 20% in turnover and/or employee in the period 2014-2017. Next tot his the company has to employ at least 10 employees and/or the turnover has to be 5 million.
The Top 250 Scale-ups is made up of the 250 Dutch companies that grew most in turnover and/or employees during the period 2014-2017. The Top 10 Scale-ups is based on the following two aspects:
1. Number of jobs (FTE) created in the period 2014-2017 (50%)

2. Relative growth in employees in the period 2014-2017 (50%)
The Top 250 Scale-ups 2018 can be recognized on- and offline by the use of this icon: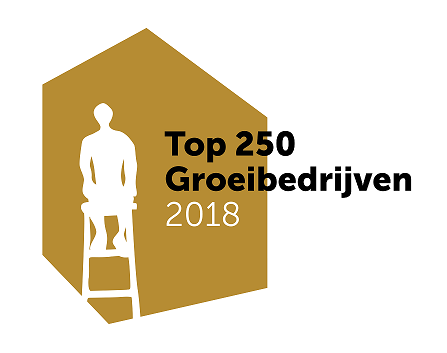 Top 10 Scale-ups 2018
1. Takeaway.com (#4 in 2017)
2. Rituals (#1 in 2017)
3. Coolblue (#3 in 2017)
4. Action
5. Catawiki
6. YoungCapital
7. Basic-Fit
8. Adyen (#6 in 2017)
9. Bol.com
10. Dynagroup
The ScaleUp Dashboard is the first list that truly takes into account and measures all companies in the Netherlands with more than 10 FTE. There are more lists about scale-ups available, but those give limited insights because companies have to register themselves or the lists are focused on specific sectors. Insight in which companies truly belong to the Top of scale-ups is missing and that is what Rotterdam School of Management hopes to achieve by creating and launching this Top 250 Scale-ups (Top 250 Groeibedrijven) – of over 3000 scale-ups – in the Netherlands.
Read more about the Top 250 Scale-ups at: https://ece.nl/top250scaleups2018/ en https://ece.nl/takeaway-best-growing-company-of-the-netherlands/